Music at Ballyclare Primary
Music plays a very important role here at Ballyclare Primary School. All children from P1 to P7 are given the opportunity to develop their musical talents. Just take a walk around our school and you will hear Mozart and Handel, nursery rhymes and counting songs, singing and recorders.
From P4 onwards our children have the opportunity to learn an instrument through the peripatetic service. We currently have 60 children taking lessons and offer lessons in upper and lower strings, Brass and woodwind. Guitar lessons and piano lessons are also available for our pupils through private tutors.
To encourage their musical talent further, children are invited to join the school orchestra and ensembles. As a member of these groups, our children enjoy taking part in performances at Christmas time and for local musical festivals, where we have been praised on the range of instruments and overall sound produced. We also encourage our children to take part in the solo classes of the festival to further develop their confidence and the high standard of playing is often commented on by the adjudicators. Pianists of the school are encouraged to provide musical interludes before and after our school assemblies and the audiences are always pleased with what they hear.
Our P4 to P7 pupils can also become a member of the school choir. Our choir performs at the annual carol service, at local nursing homes and nursery schools. The Choir attend the Ballyclare Music festival every year and have enjoyed many successes at this event. The videos of the choir can be found below. We hope you enjoy their wonderful sound.
Classroom Music Projects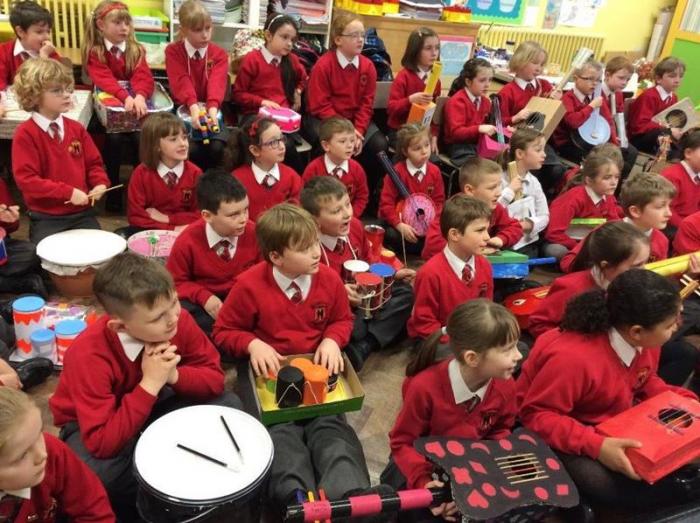 Sparklers Choir Success at Music Festival
Ballyclare Primary School, Doagh Rd, Ballyclare, County Antrim BT39 9BG | Phone: 028 9332 2389