P.E and Sport
Here at Ballyclare Primary School, we see P.E as an important and valuable area within the curriculum. We believe everyone can benefit from physical activity. Not only does it keep our bodies healthy, but it teaches life lessons like discipline, responsibility, resilience and helps build self-confidence. All pupils are encouraged to develop and maintain a healthy lifestyle which is reinforced during our weekly lessons.
Foundation Stage
At Foundation Stage there is an emphasis on developing Fundamental Movement skills. These are the skills which support children's co-ordination and movement. In essence, these are the "building blocks" for the more complex and specialised skills that children will need throughout their lives. These include Balance, Locomotor and ball skills. In foundation stage, physical activity is often used to strengthen the understanding of other subjects taught in the classroom e.g. W.A.U. topics.
KS1
At KS1, Fundamental skills are further reinforced through different sporting disciplines including invasion games, dance, gymnastics and athletics. In P4, children also begin their swimming lessons. By the end of their lessons, they will have mastered a range of strokes and should be able to swim confidently. KS1 participate in a 'Sports in the community' programme which is led by specialised coaches in our area. There is an emphasis on the importance of good health relating to physical exercise and a healthy diet.
KS2
In KS2, pupils experience a range of high-quality PE lessons taught by our own class teachers and specialist coaches within our local area. Many activities taught in PE require children to work in groups to solve problems. There are also opportunities for children to compete in sporting competitions. This is invaluable for developing both leadership and teamwork skills. Children also learn to develop the concept of fair play, good sportsmanship and how to handle both success and defeat.
After School Activities
We have an after school activity to suit everyone! There are exciting opportunities for boys and girls to participate a range of activities including hockey, football, netball, rugby... to name a few. Many of our children go on to post-Primary schools and excel in sports!
Our Wake Up Shake Up programme is a Thursday morning initiative which allows children to be active before the school day begins. This is 10 minutes of aerobic activity to fun pop songs. The children start the day feeling energised and ready to learn. Parents - you are more than welcome to join in too!
Sports Day
Sports day is a huge community event that is always one of the highlights of our school calendar. There is an event for all pupils to compete in! It is a great day to celebrate the fantastic sporting talent that we have here at Ballyclare Primary School.
Monthly Mile
The monthly mile is an excellent way to keep our bodies and minds healthy. The first Friday of every month we run laps of our school playground to reach our one-mile target. It has been lots of fun for everyone…even the teachers have go! Running a mile during the school day has taught the children the importance of regular physical activity. There have been improvements in aerobic endurance and overall fitness as well as enhanced motivation and concentration when learning in the classroom. We have loved taking part in the Northern Ireland daily mile as we are running alongside lots of other children all over the country!
Our aim is that every child leaves BPS enjoying sport and inspired to lead healthy and active lifestyles. We encourage pupils to continue to set the bar high for their sporting achievements as they continue their studies at Post-Primary level.
Sports day 2019 Cup Winners
Sports' Day 2019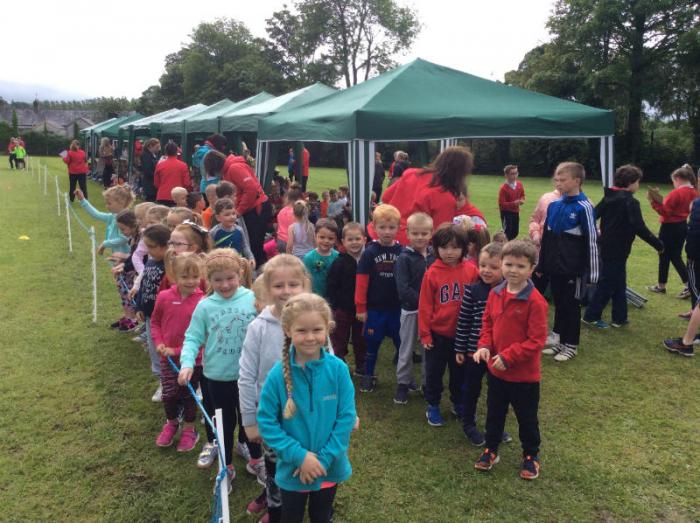 Foundation Stage Sports' Day
Key Stage Two P.E
Key Stage One P.E
Foundation Stage P.E
P3 at our Sports Festival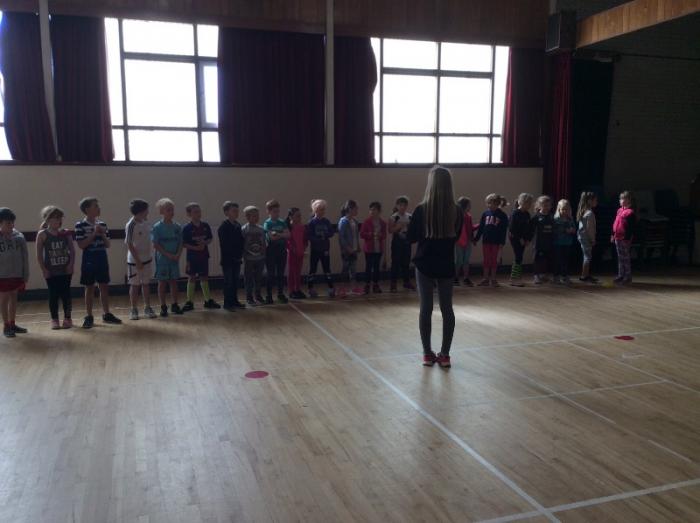 Ballyclare Primary School, Doagh Rd, Ballyclare, County Antrim BT39 9BG | Phone: 028 9332 2389