What is STEM?
'STEM' is a government initiative aimed at promoting children and young people's engagement with Science, Technology, Engineering and Mathematics.
The government has identified STEM-related industries as being critical to the future competitiveness and prosperity of theUK. Northern Ireland's ability to compete in the global market will more and more depend on having a supply of talented and skilled people entering into STEM-related careers.
STEM has become an educational priority inIrelandand theUKas well as across the rest ofEurope. Here in Ballyclare Primary School we teach STEM through practical 'design and construct' challenges alongside scientific investigation work completed through P1-P7 year group's topic work.
What do pupils achieve as a result of 'STEM Challenges' and 'Scientific Investigations' here at Ballyclare P.S.?
These practical tasks develop pupils' investigative and problem solving skills, alongside the ability to work both independently and within group situations. A practical approach, combined with the teaching of a 'design process', assist in the development of manipulative skills, hand to eye co-ordination, thinking skills and personal capabilities. Ultimately all of these contribute to the development of the pupils as:
Individuals
Contributors to society
Contributors to the economy and environment
Formula Goblin Kit Car Champions!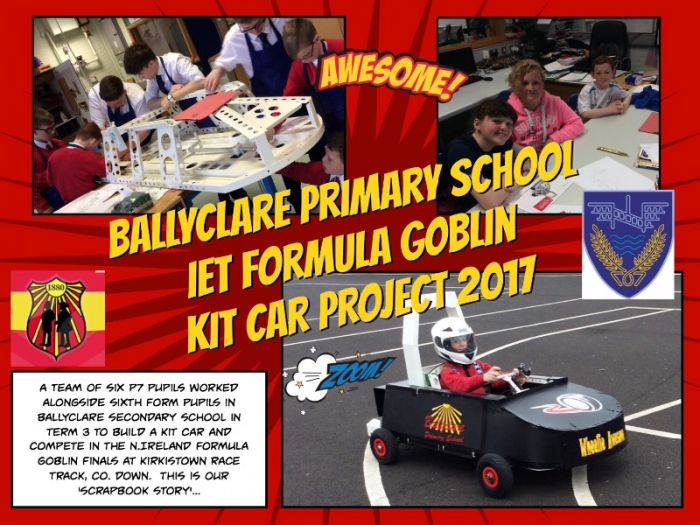 STEM 'Ultimate Challenge' - Build a raft!
A group of P7 pupils from Ballyclare Primary school were challenged to design and build a raft to enter the Portrush Raft Race as part of a STEM (science, technology, engineering and maths) project in their school under the watchful eyes of Mr Gordon and Mr Heyburn. Their challenge was to build an eco-friendly raft from recycled materials although for health and safety reasons the children were not allowed to race the raft themselves, so therefore a group of teachers had to!
The raft, named 'Teacher Sinker' following a whole school competition, was completed in time for the big event with many pupils, parents and staff joining the staff in what was a fantastic day out at the coast!
A massive well done to the pupil 'design team' members who worked so hard after school each week and learned a lot of valuable skills along the way which will serve them well in years to come….John Carlisle, Ryan McNeilly, Luke McDowell, Stewart Hull, Andrew Moore, Sam Ross, Holly Brown and Olivia Neill.
Latest STEM photos from around the school:
P7 'Kit Car Club' enjoy Race Day at Ballyclare Secondary!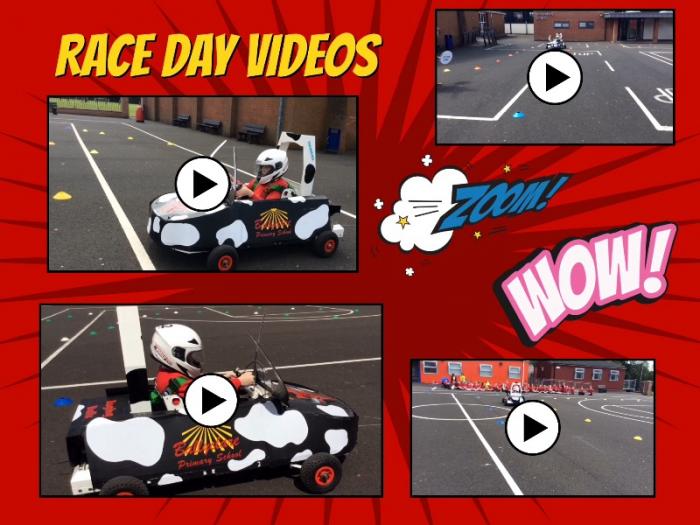 Over the past number of weeks a team of P7 pupils have been working alongside pupils from Ballyclare Secondary School to build a Kit Car. The team helped construct the electric car (it was like a big mechanic set) and designed the shell of the car under the race team name of 'Raging Bull'. The team then got to race the car in front of their friends at a special race day event in the school playground! The team all did really well but it was Jack Moore who recorded the fastest lap times and was the overall event winner. Well done everyone!
Team members: Ben Sutter, Damaris Bell, Jack Moore, Jonathan Kilgore, Madison Clarke and Sarah Doherty
Mr Gordon
STEM Challenges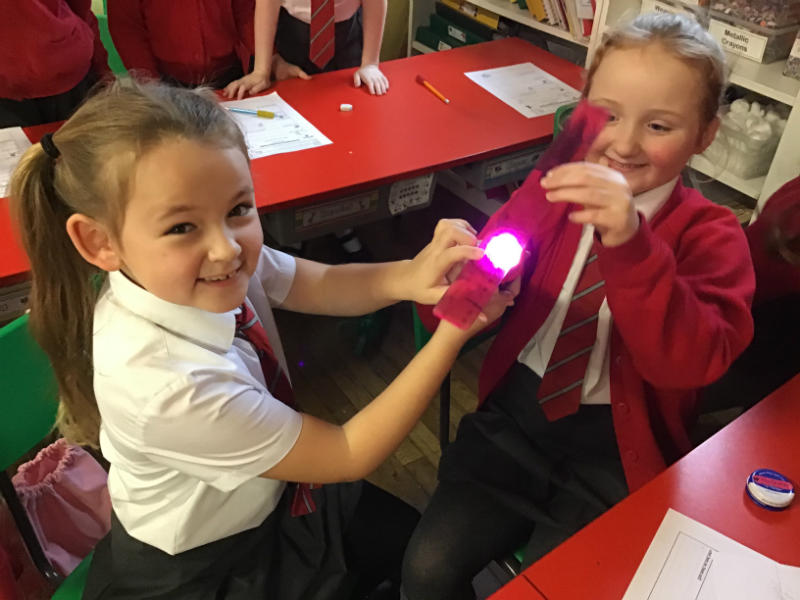 STEM TT - Design a Push Cart!
To extend our STEM work in school we had a STEM T.T. (Time Together) challenge for ALL P4-P7 pupils in June 2014. The challenge was to design and build a 'Push Cart' with their parents / relatives and to take part in a race on Sports Day.
The carts were amazing and a tribute to the many hours spent at home planning, designing, constructing and testing your push carts out. The event was a big hit and created memories that will last a life time with the children and those who were there on the sidelines cheering.
Well done!
Ballyclare Primary School, Doagh Rd, Ballyclare, County Antrim BT39 9BG | Phone: 028 9332 2389